So, you've finished your thesis, passed your viva, and you now want to share your amazing research findings far and wide. To do so, you're going to need to figure out how to rewrite your thesis as a journal article.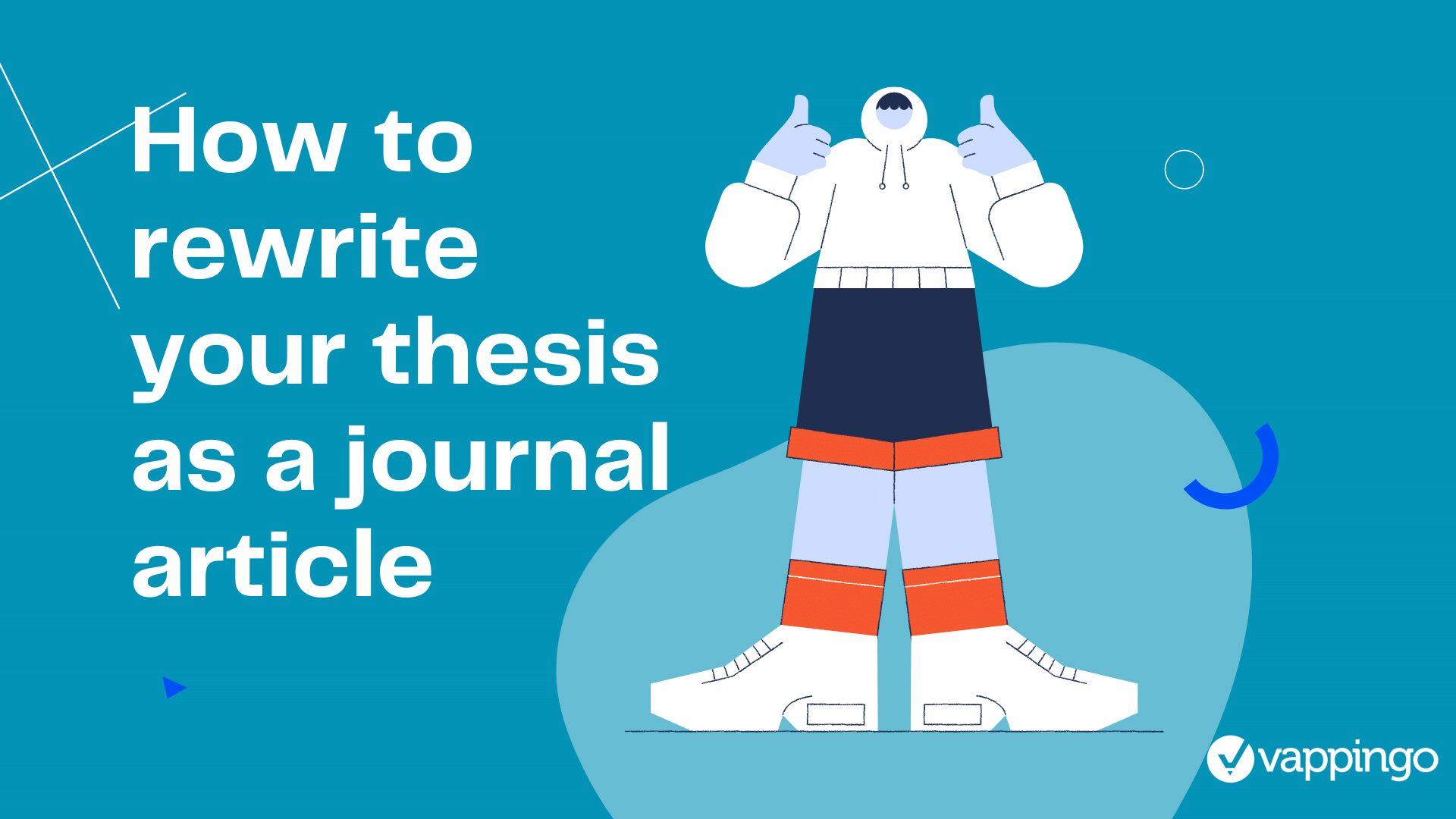 As we've already established, it is perfectly acceptable practice to rewrite your thesis or dissertation; in fact, it's extremely common among scholars and professors.
However, you need to bear in mind that a thesis is a rather different beast from a journal article. The two documents are intended for very different audiences and serve different purposes. What's more, if you want your work to be published in a peer-reviewed journal, you'll need to ensure you present your research methodology and findings in the correct style and adhere to the expectations of your target journal. Oh, and you'll most certainly want to make sure it is free of error. That's where dissertation proofreading services can come in handy 😊
In this post, you'll learn the difference between a thesis and a journal article, why you need to tone down your introduction, how you can get a bigger bang for your buck by rewriting one dissertation or thesis into multiple articles, and why you need to skip the lengthy definitions.
So let's dive straight in.
The Difference Between a Thesis and a Journal Article
The majority of undergraduate and graduate programmes cumulate in students completing long discourses known as dissertations or theses. These in-depth papers serve an educational function and must be submitted to a committee that determines if the candidate is deserving of a degree. As a result, the goal of a thesis or dissertation is to showcase how much you have learned. With this in mind, many students will include all they know about a given topic in a dissertation.
A thesis will usually have a long introduction, an extensive literature review, a full discussion of the study strategy and methods, complex reporting, and an in-depth analysis of the outcomes.
Journal articles are very different to thesis and dissertations. They are targeted at busy researchers and scientists who are interested in finding practical, evidence-based ideas. As a result, journal papers must be particularly concentrated in terms of presentation. These papers must follow a certain format, which includes a brief literature review, a controlled explanation of methodology, an overview of the most important findings, and a brief discussion section.
How to Rewrite Your Thesis
Here are the steps you will need to take if you want to rewrite your thesis or dissertation as a journal article or book.
Reduce the length of your thesis or dissertation
Because a journal article is significantly shorter than a dissertation or thesis, it necessitates a more concise framework and style. A dissertation might be a few hundred pages long and contain in the range of around 20,000 words, but a journal article can be anything from 3000-6000 words long, depending on the area of specialism and the publication. As a result, each portion of the article must be significantly condensed. This may be accomplished by taking information from the thesis and reworking it. See our paraphrasing guide for more helpful hints.
Reduce the length of your abstract
A journal article's abstract is usually between 150 and 250 words long. A dissertation abstract, on the other hand, is typically 350 words long. However, requirements do vary from publication to publication. Make sure you check the style guide for your target journal. Some publications favour an unstructured abstract, while others have different expectations. In some cases, you may even be required to submit a graphical abstract.
Focus on one research question for each article
Here's where you increase your chances of getting published while also getting a bigger bang for your buck.
Students typically demonstrate their understanding of the current literature by including an extensive literature review in their thesis or dissertation. Therefore a thesis normally contains a lengthy introduction that introduces multiple research questions. However, the literature review presented in a journal article should be shorter and limited to a single research question and an overview of what motivated the study.  If you have more than one research question in your dissertation or thesis, make sure you narrow your focus down to one research topic for your journal article. The great thing about this approach is that if you have researched multiple research questions for your thesis or dissertation, you can now potentially publish multiple journal articles.
Describe the experiments you conducted, not the research approach
The materials and methods sections of a dissertation or thesis typically present a lengthy overview of the research technique and strategy. A journal paper, on the other hand, necessitates a more limited explanation of the methods employed. Ideally, you should restrict your discussion to the details of the technique utilised in the research; i.e., the experiments you conducted. It is not necessary to present an in-depth description of the research strategy in a journal article.


Limit the results discussion to your single research question
A thesis or dissertation normally includes a comprehensive discussion of each and every outcome in great detail, whereas a journal article merely reports the most important facts. When it comes to journal publications, however, precise reporting guidelines should be observed, and only outcomes that are directly related to the research question you have chosen and the associated evidence should be reported. If you feel it is necessary, you can include secondary results as supplemental material.
Reduce the length of your discussion section
Spotting a trend here? Yes, once again, if you want to get your dissertation of thesis research findings published in a journal, you'll need to reduce the discussion section.
The discussion presented in a thesis/discussion is more extensive than that required in a journal article. The dissertation will typically offer a full analysis of all the results with the goal of demonstrating the student's complete comprehension of their data. Furthermore, students are required to engage in substantial conjecture to indicate their interest in future research paths. The journal article should be concise and succinct. Try to refrain from repeating your findings; it's the insights into the findings that we're interested in.
Limit your references to those included in the journal article
Dissertations usually include an extensive list of sources and, in certain cases, a bibliography. Journal papers, on the other hand, contain a restricted amount of citations, and the reference section only lists works that were directly cited in the journal article. Some journals even have a limit on the number of references you can include. Similarly, while a 'Definitions' section is customary in dissertations, you can leave it to one side for your journal publication.
So there we have it. The suggestions outlined should set you in the right direction for rewriting your thesis or dissertation into a journal article. Nothing worth anything is easy in life. You will need to invest a lot of time and effort into your paper if you want to achieve your dreams of being published in a peer-reviewed journal. However, it will most certainly be worth it and could open the door to many new opportunities.
Did you find this post super useful? You may also want to check out the following articles:
How to Write a Thesis Statement That Your Professor Will Love