Is Article Spinning Just the Same as Article Rewriting?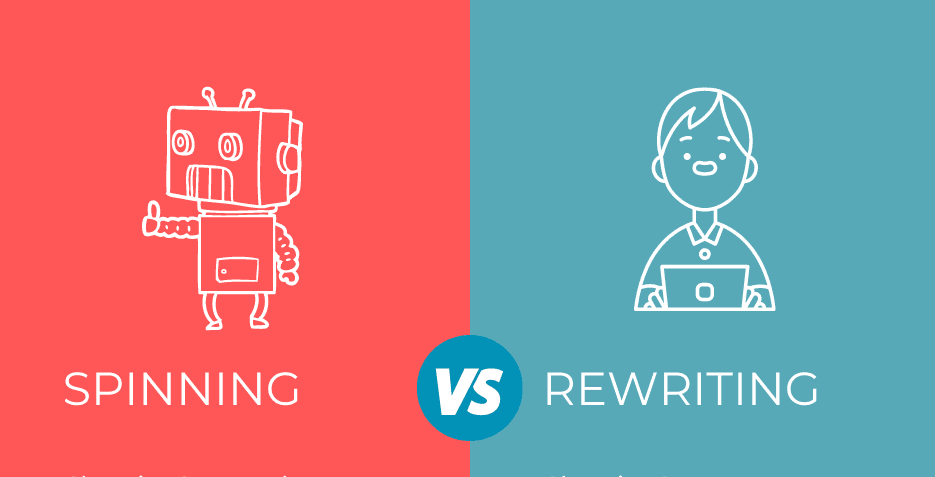 You'll find a lot of discussions online about whether article spinning and article rewriting are the same thing. The basic answer is "No." There is a significant difference between article spinning and article rewriting, and which approach you choose to pursue will ultimately have a BIG impact on the results.
What is Article Spinning?
Article spinning is a content marketing approach that many black hat SEO practitioners use to generate material and articles for websites and blogs. Article spinning involves automatically rewriting an article to make fresh "original" copies to avoid duplicate content issues that might result in a penalty from search engines like Google. However, ironically, spinning in and of itself all too often results in penalties far worse. We'll take a look at this in due course.
Article spinning involves composing an article or finding an existing article online and then rewriting it hundreds or even thousands of times to create distinct versions of the same post. You can then submit the various forms of the article to hundreds or thousands of websites to create many inbound links to a given website. In theory, these links will signal to Google that the website is very popular, causing it to rise in the search results for their chosen keywords.
Most people who engage in article spinning use software and rewriting tools that automatically rewrite the content for them. Unfortunately, however, the majority of these tools do not work. Read our guide to do article spinning tools work for more information.
In its worst version, a spun article doesn't have to make any sense whatsoever.
For instance, a program may take the following sentence:
She moved the pen seamlessly across the paper."
And spin it as follows:
She relocated the animal closure impeccably throughout the piece.
The new sentence does not mean the same as the original sentence. In fact, it doesn't make any sense at all. A plagiarism checker, of course, would not identify any sentence as plagiarised… nobody in their right mind would churn out the rubbish that an article spinner generates.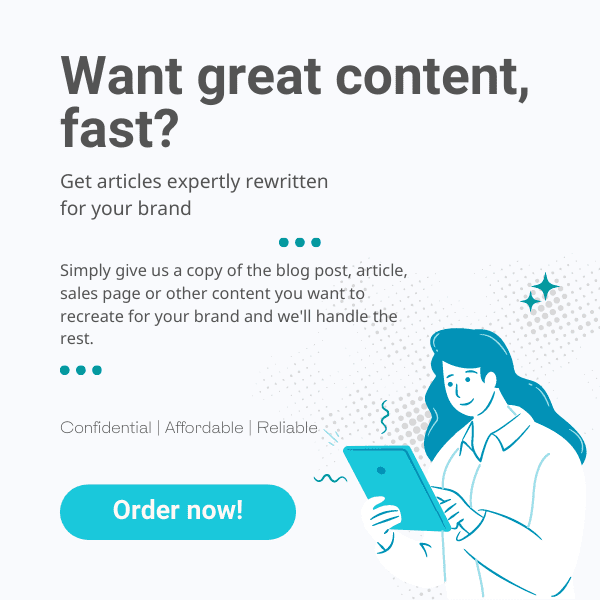 Is article spinning cheating?
Yes. When you spin articles, you add zero value.
Is article spinning effective?
Rarely. The content generated is typically meaningless and of low quality.
Is article spinning risky?
Definitely. Your website may be blacklisted if you publish spun articles.
Article spinning is not in line with the spirit of the Internet, and it's something Google abhors. You can learn more about this straight from the horse's mouth in Matt Cutts' video on article spinning. Google frequently updates its algorithms to improve efforts to detect low-quality content that has been spun from existing articles.
As such, if you engage in this practice, you are at real risk of facing a Google penalty and watching all your hard work pour down the drain.
What is Article Rewriting?
Rewriting an article entails taking a reference article and manually rewriting the content to make it unique.
When you engage the services of expert article rewriters, they will read the article, comprehend it, conduct research, and then determine how to rewrite it.
Article rewriters take the article's concepts and rewrite them in their own words. They may add new material and ideas and include some unique content connected to the content's theme. Where relevant, they will ensure the article is up-to-date and contains the latest facts and figures. The most effective article rewriters will also ensure that the new article is aligned with your brand and offerings.
The updated article fundamentally has the same meaning as the original but reads drastically differently. It may contain vestiges of the original content, but it will be a completely new and unique article. In the big scheme of things, most of the stuff you read on the Internet is rewritten content.
If you want to rewrite articles for yourself, read our guide to how to rewrite articles.
Is article rewriting cheating?
No. When executed correctly and ethically, you are basing the new article on ideas, not words.
Is article rewriting effective?
Very. The content generated is high-quality, brand relevant, and unique.
Is article rewriting risky?
No. You do not risk a Google penalty or your website being blacklisted because the article is unique.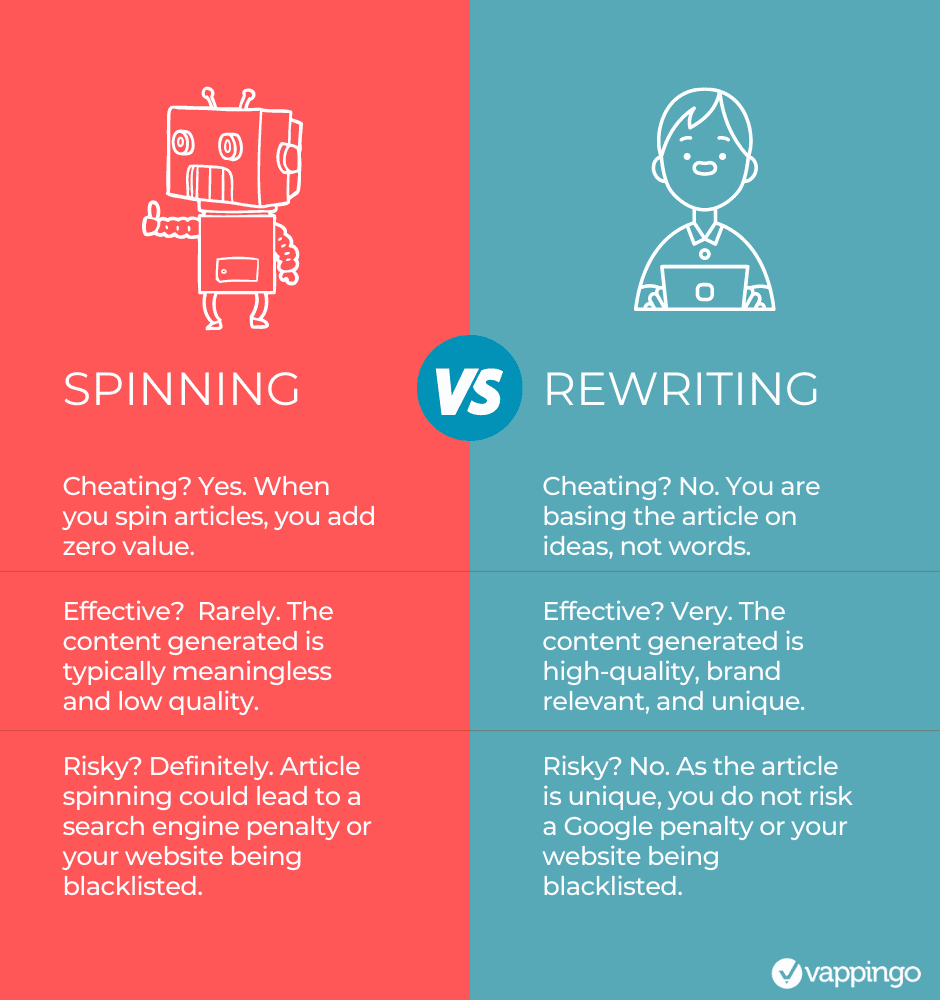 Why Article Rewriting is Better Than Article Spinning
Artificial intelligence and bots will never be able to take the place of the human mind. As a result, human involvement is necessary.
If you're serious about offering your website visitors access to high-quality content that reflects your brand but don't have the time or budget to generate a significant number of fresh articles for yourself, article rewriting services may be just what you're looking for.