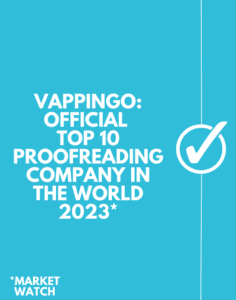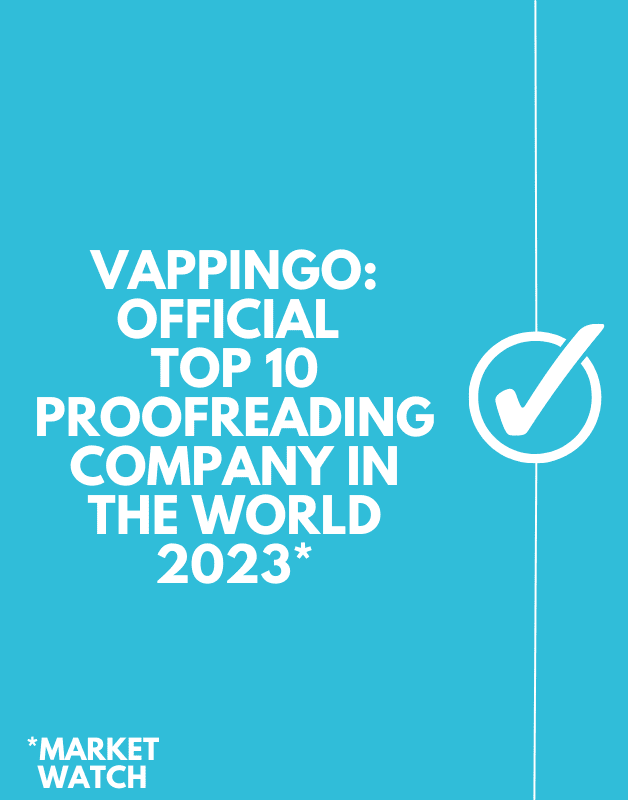 UK-based Vappingo is delighted to announce that it has been named among the world's top ten proofreading service providers in recent research published on Market Watch.
The list, which is based on reputation, trust, market growth, and market opportunities, was compiled by independent research vendor Business Growth Reports, which examined the top proofreading companies in the world.
The ratings were calculated based on an analysis of the global proofreading services market, current and emerging trends, and other vital factors such as competency, reputation, pricing and reporting.
Other providers listed included Wordy, Scribbr, Enago, and Editage.
Vappingo's inclusion on the report, which spans projections through to 2029, indicates that you rest assured that you are in safe hands when you choose Vappingo as a service provider:
We meet regulatory requirements
We possess a solid market share
Our business is growing throughout the world
We are outperforming many of our competitors
The short version: It means we're an established name you can trust
Vappingo: A Top Ten Proofreading Service
Vappingo has provided editing, rewriting, and professional proofreading services to customers in 38+ countries and 4 continents. Many of our editors and proofreaders are members of the Society for Editors and Proofreaders. Our customers really do love us; give our services a try today, and you'll soon see why.