If you're wondering how to write a thesis statement without getting into a complete muddle, check out our incredibly simple thesis statement template to craft an amazing thesis statement. Simply fill in the blanks, and you're done.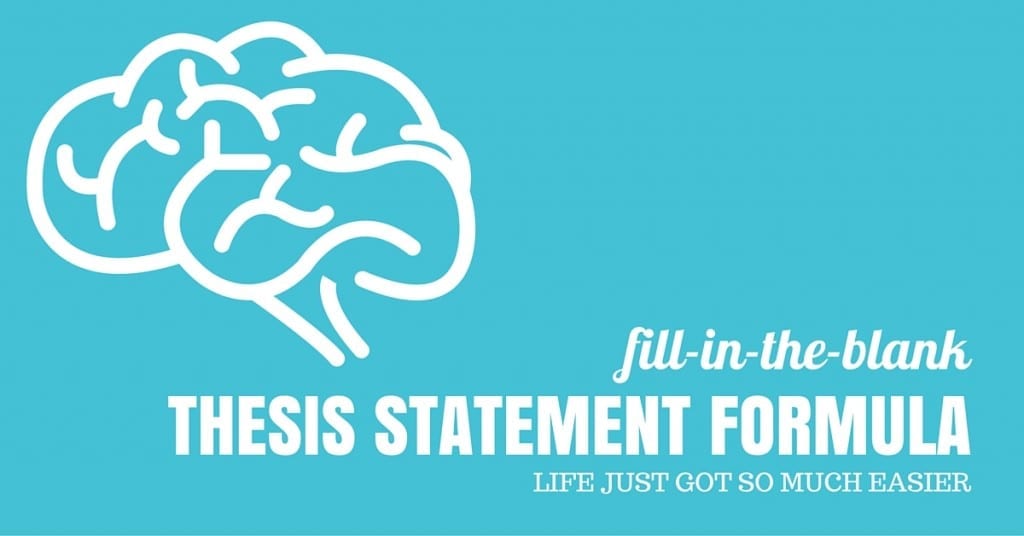 When it comes to perfecting the dark art of thesis statements, there's good news and bad news:
The bad news: Your thesis statement may well be the single, most important sentence in your essay, so you can't mess it up.
The good news: It's actually really, really easy to write a great thesis statement without wasting too many brain cells.
Luckily, despite what you may have been told, writing a thesis statement is actually incredibly easy. You can read more here: thesis statement help.
And we're about to share a simple trick that will help you nail your statement every single time.
But before we get to the only thesis statement you'll ever need, let's take a look at the basics so you can better understand: is this a thesis statement?
What is a Thesis Statement?
A single sentence located at the end of your introduction.
Tells the reader what your opinion is and what the paper is going to prove.
Directs your reader to the main pieces of evidence you will explore.
If you want to learn more, check out Purdue's guide to thesis statements.
You may also wish to check out our guide to rewriting your thesis.
If you're ready to get started on crafting the perfect statement, read on.
Thesis Statements That Suck
Announcing something
I'm going to describe Shakespeare's love life.

This essay will examine the life of a politician.
What's so wrong?
These thesis statements provide the reader with an idea about what the essay, dissertation or thesis will discuss, but don't actually put anything on the line. There's nothing at stake, no specific issue to be resolved and absolutely nothing to make the reader want to learn more. Many of the theses and essays we come across as part of our student proofreading services contain this basic mistake.
Stating the obvious
Shakespeare wrote a lot about love.

Politicians work long hours.
What's so wrong?
If very few people are actually likely to disagree with the issues you discuss in your essay, what's the point in wasting your time analyzing them? Your thesis statement needs to make a claim that someone may disagree with. You will then spend your essay arguing why your claim is true. Check out our guide to writing argumentative essays for more deets.
Asking a question
Did Shakespeare ever get married?

Why are politicians paid so much?
What's so wrong?
To write a good thesis, you need to ensure your thesis statement clearly states your position and the purpose of the essay as opposed to simply posing a question. The questions above are weak and do not give your reader any idea about what you're intending to prove in your paper.
So, now we know what a poor statement looks like, how do you write a fabulous one?

The Only Thesis Statement Template You Will Ever Need
Simply fill in the blanks of this thesis statement template in relation to the topic of your essay and what you intend to prove, and you're done.
By examining <claim one>, <claim two> and <claim three> it is clear that <opinion>.
See it in action:
By examining politicians' long working hours, depth of responsibility, and the important role they play in the social and economic wellbeing of the country, it is clear that they are not overpaid.
We're done.
Seriously?
Yep. It really is that easy.
And to make your life even easier, we've crammed all this great info into a free printable PDF. Print the poster out and refer to it when you're in the process of crafting your next thesis statement.
Don't forget to proofread your thesis statement!
Download this Fill-in-the-Blank Formula by clicking on the image below.
How to Write a Thesis Statement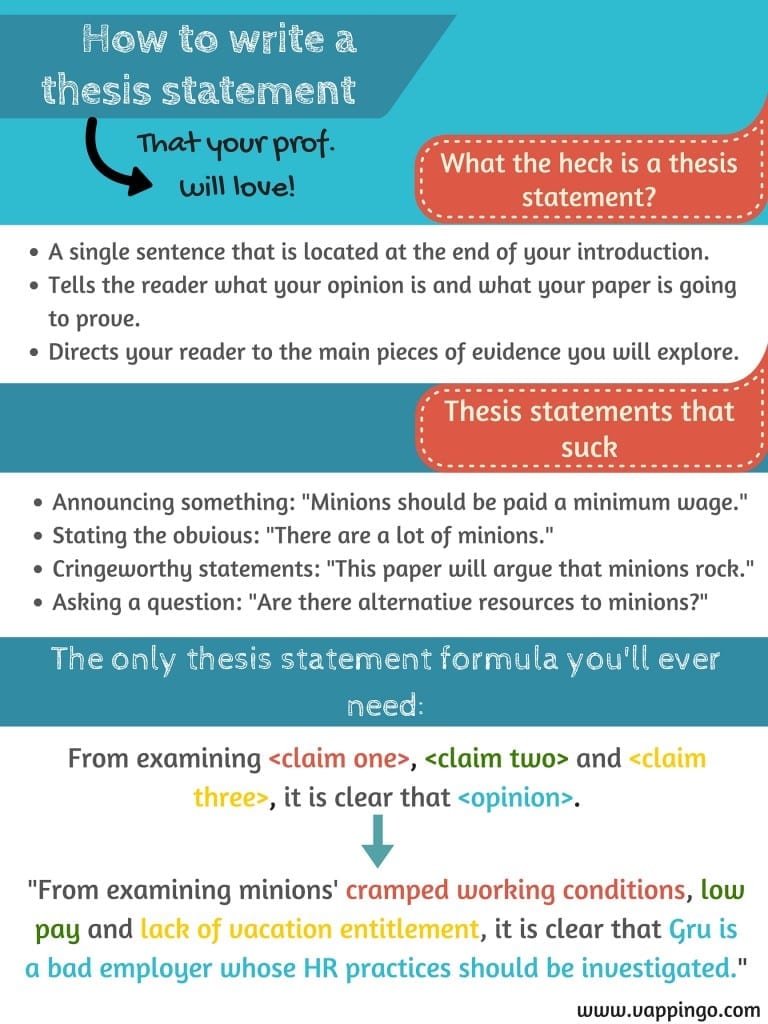 You can place our thesis statement template on your webpage free of charge. Simply copy and paste the code below.
Get instant access to professional essay editors who can transform your grades. Students throughout the world use Vappingo to transform their academic documents and make themselves understood.

Thesis Statement Checklist
Still not sure if your thesis statement is fantastic enough? Use our thesis statement checklist to make sure you have written a good thesis: