This free essay editing checklist can help you to perfect your essay and take your grades up a notch with very little effort.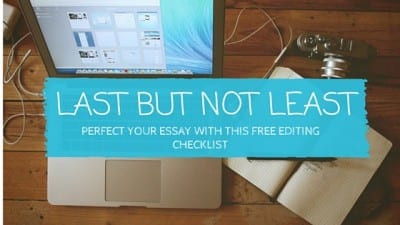 So, you've finished your essay… yay you!
But have you?
Sadly, your work isn't quite done the minute you hit the final keystroke on your conclusion. In fact, it may have just begun.
It's no major secret that the students who bag the top grades are those who spend time editing and refining their essays. Dull it may be, but the editing process really is all the difference between a grade your mom will brag about at the local five and dime and something so poor that your dreams of getting a scholarship are firmly dashed.
If you think you don't need to edit your essay, it could be that you do, indeed, have advanced essay writing skills that would put Mark Twain to shame, but it's much more likely that you just can't be bothered.
And who would blame you?
The first thing you need to get your head around is that the first draft of your essay will most certainly not be perfect. Our online essay editors can attest to that! It doesn't matter how advanced your written composition skills are, there WILL be mistakes in your essay, and there WILL be room for improvement (check out our guide to how to edit an essay for some great ideas).
This handy essay editing checklist contains some useful hints and tips as to the important things you should be on the lookout for when editing an essay. It's by no means definitive, but it's an ideal starting point if you find yourself wondering how the heck to turn the first draft of your essay into a finely tuned masterpiece that will knock your professor's socks off.
If you're looking for specific help with APA formatting, check out our APA style checklist.
Essay Editing Checklist

If you don't have time to follow the essay editing checklist to perfect your essay but are smart enough to realize there's room for improvement, consider using the services of a professional editor. Our academic editing services can transform your essay from good to great in less than 24 hours. Get a free quote now!