A guide to finding the best statement of purpose editing service among the countless options that are available.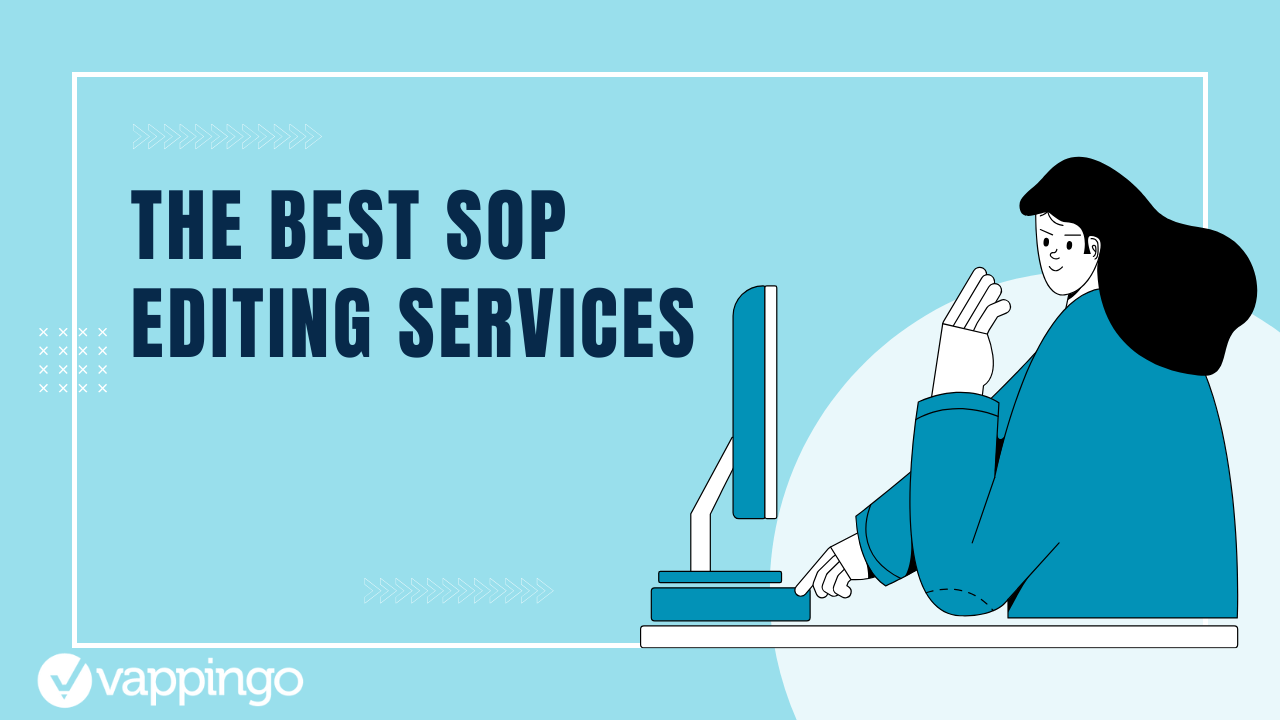 After spending countless hours drafting your Statement of Purpose (SOP) and meticulously articulating your objectives, you still have more work to do before your SOP is ready for submission.
It's essential to secure a leading SOP editing service to perfect your Statement of Purpose, ensuring it effectively communicates your ambitions and qualifications and follows the expected statement of purpose format.
Before we delve deeper, it's vital to understand that your initial SOP draft will inevitably contain errors and won't embody its full potential if you opt to edit it without professional assistance. If you're looking to present the most polished version of your SOP, actively seeking the best SOP editing service available is non-negotiable.
The question now is, how can you identify a dependable SOP editing service amidst the myriad of firms advertising such services online?
The fastest, most straightforward, and economical approach to guaranteeing an SOP that leaves a memorable impression is to engage a trusted editing service. Can you truly afford to compromise your application's success with an SOP that is not impeccably edited? At this juncture, it's advisable to step back and allow seasoned specialists to meticulously refine your SOP, identifying and rectifying all errors.
However, navigating through the sea of available SOP editing services online can be a daunting endeavor. With numerous options at your disposal, and with the unfortunate proliferation of dishonest operators in the online space, selecting the most reliable SOP editing service becomes a challenge. This guide is crafted to assist you in making an informed decision, steering you clear of fraudulent services.
If you've yet to write your statement of purpose, before you read our guide to finding the best SOP editor, take a step back and review our guide to writing a statement of purpose. You may also find our statement of purpose samples useful.
Checklist for Selecting the Best SOP Editor: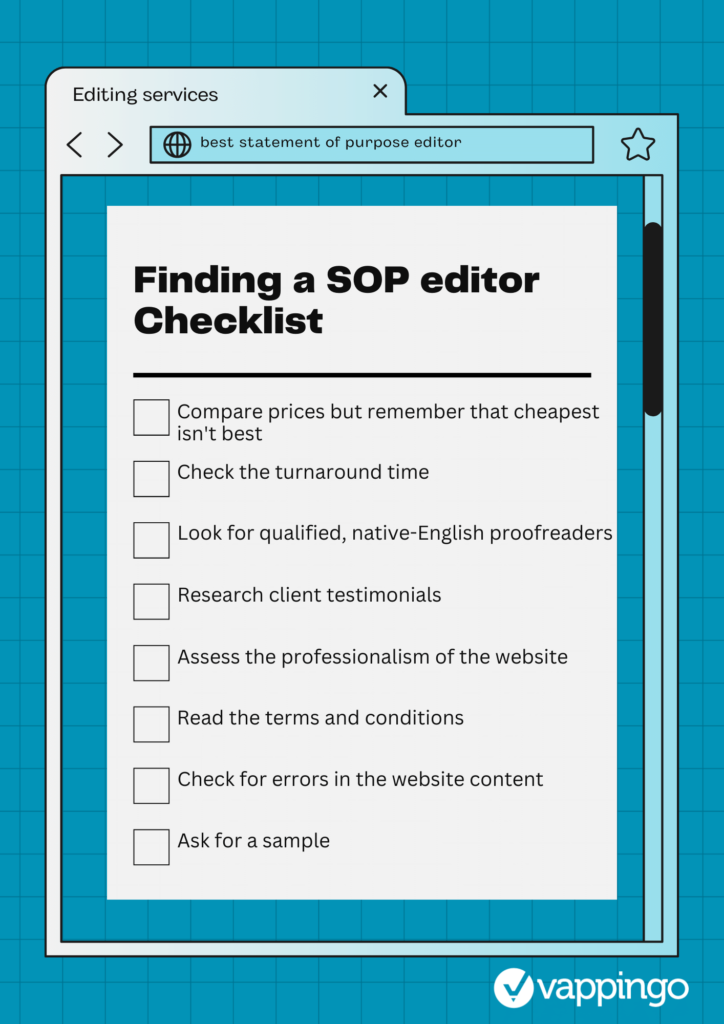 1. Avoid Solely Opting for the Cheapest Service:
As someone possibly working with a limited budget, you might be tempted to choose the least expensive service. However, it is crucial to understand that the most affordable services often provide the least value. Reliable SOP editing requires experienced editors who would not typically work for rates that are suspiciously low. Moreover, some high-end firms might charge exorbitant fees, providing the same quality of service as mid-range companies but taking a more significant cut.
2. Check Turnaround Times:
Many applicants often find themselves working against the clock. Therefore, it's imperative to choose an SOP editing service known for respecting deadlines consistently. If you're working with tight timelines, you'll need a service with the resources and expertise to expedite the editing process without compromising on quality.
3. Ensure Editors are Qualified and Proficient in English:
Your SOP is a pivotal component of your application, requiring a professional touch to ensure it's error-free and articulately presented. It's important to scrutinize the qualifications and proficiency of the editors you intend to hire. Critical considerations include whether the editors are native English speakers, if they possess formal training in editing, their experience with SOPs, familiarity with various style guides, and if the company offers a satisfaction guarantee.
Vappingo has officially been named as one of the top ten proofreading services in the world. As such, you can rest assured if you use our SOP editing services that you are in good hands.
4. Check Customer Testimonials:
Customer reviews and testimonials provide invaluable insights into previous clients' experiences with the service. They offer a glimpse into the service's reliability, efficiency, punctuality, and commitment to customer service. A company with no visible testimonials or with a slew of negative reviews should raise red flags.
5. Assess the Website's Level of Professionalism:
A number of SOP editing services often appear out of the blue, with some solely existing to scam unsuspecting clients. Legitimate services invest in professional, well-maintained websites. When evaluating a service, consider the age of the website, the procedures outlined for addressing customer dissatisfaction, the presence of a well-written blog, and affiliations with recognized professional bodies.
6. Review the Service's Terms and Conditions:
It's alarming when a company doesn't list its terms and conditions on its website. Such firms often engage in deceptive practices, showing little commitment to customer satisfaction. Absence of terms and conditions, privacy policies, or confidentiality agreements should be considered warning signs.
7. Examine the Website's Content:
There's a certain irony in SOP editing services whose websites contain glaring grammatical errors. Carefully review their content, and if you find errors, it's advisable to seek services elsewhere.
8. Request a Sample:
Given the significance of your SOP, it's prudent to engage with multiple services to determine which one aligns with your expectations. Reputable SOP editors usually offer a free sample of around 200 words. If a service declines to provide a sample, it might be wise to explore other options.
Navigating through the multitude of SOP editing services online can be a daunting task. With the guide provided above, you're better positioned to discern between legitimate and fraudulent services, aiding you in making an informed decision that aligns with your needs and expectations.