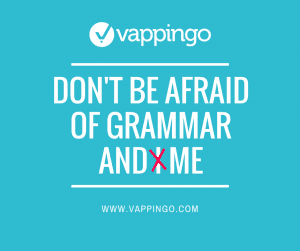 Are you looking for a quick and easy method of checking your English and making sure it is perfect?
Welcome to your web-based grammar checking, proofreading and editing provider. Vappingo is an exceptionally straightforward online resource that absolutely anyone can use, at any time.
Grammar checking with a human touch
Our proofreaders and editors are much better than online grammar checks or computerized software. We don't just check for basic grammar, vocabulary and spelling mistakes. We also improve readability, brevity, structure, and professionalism.
What does this mean for you?
It means that we can make your writing better—something that a computerized grammar checker could never do. Our editors can apply their expert knowledge to revise your documents and make your writing more powerful and effective, and all for a much lower price than subscriptions to grammar-checking software.
Personal and Affordable
If you are concerned that real humans are expensive, you will be relieved to hear that Vappingo's services are extremely affordable and much cheaper than monthly subscription costs to online computerized English checking services. We don't have hefty software development costs or significant overheads. We just have a team of web-based editors and proofreaders who work from home (some of them in their underwear but don't tell them we told you that).
Our low operating costs mean that we save large amounts of money that we can pass on directly to you, our customer.
Not Convinced? Here's why you should avoid grammar checking software
If you're looking to improve your writing and ensure that it is free of errors, you should be extremely wary of grammar software. Online grammar checking software has serious limitations:
Grammar is a contextual art and science. The way in which sentences are structured and vocabulary is employed depends on the context in which it is used. Computerized checkers are not capable of proofreading English within a context because they can't actually read.
Grammar software is built to assess a variety of programmed rules and syntax. It isn't possible to develop a database that is capable of understanding the various permutations that are present in the English language.
Software can only point out that something may be wrong. They cannot confirm that it is wrong, you will need to do that.
Some of the better grammar checking software packages will give you advice on how to correct an error but they will not be able to 100% confirm the correct action to take. Unless you have an advanced knowledge and understanding of the English language, like our professional human proofreaders and editors, you will often not know if the suggestions should be accepted or not.
Grammar software will help you to identify grammatical and spelling errors but it will not improve the flow and quality of your writing in the way that a professional editor can because software-based grammar checkers are unable to make suggestions as to how you can make your writing more powerful and concise. Human editors can tell you how to make your writing better. For example, if you were writing a horror story you may start with the following phrase:
It was a very cold night. I could hear the wind and I couldn't sleep.
A grammar checker will tell you that the sentence is perfectly fine, which it is. A professional editor will help you to improve it:
It was a dreadfully cold, dark night. I could hear the wind rattling the window shutters and I tossed and turned, unable to sleep.
Do you need a grammar check quickly?
Although we cannot provide you with an instant grammar check, we can provide you with a quick one. Our editors and proofreaders can scrutinize your document and have it back to you within 24 hours, often much quicker. Sometimes perfection is worth waiting for.
If you're looking for a professional touch then order online proofreading and editing services from Vappingo now.
Give Vappingo a try today, with our money-back guarantee you have absolutely nothing to lose.