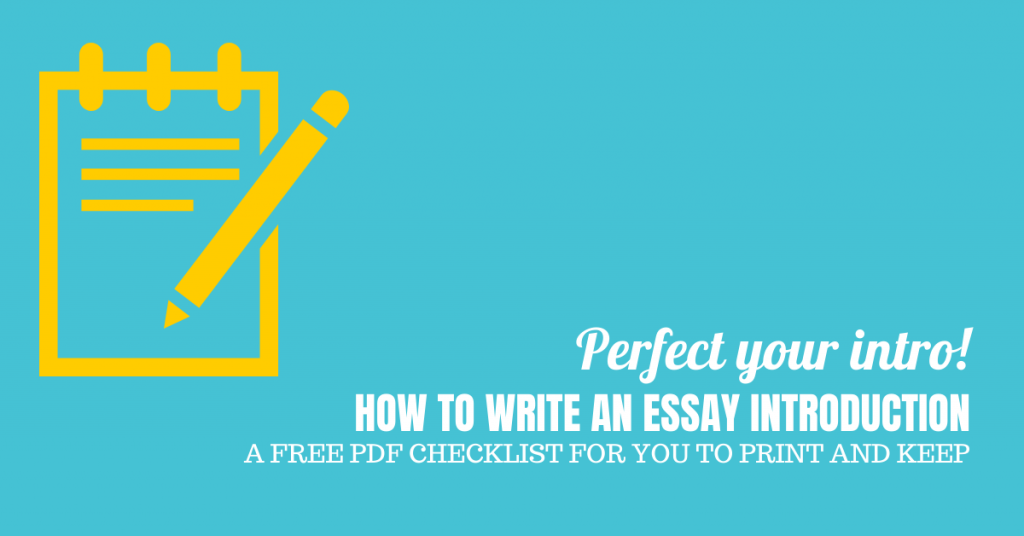 Today we're going to show you how to write an essay introduction that:
Makes your teacher/professor want to read the rest of the essay.
Introduces the topic in a clear and effective way.
Avoids the common traps many students fall into.
Gets your essay off to the perfect start.
Contents: Writing an Essay Introduction
We all know that the introduction to an essay is one of the most important parts of the essay format.
Yet it seems very few students have truly mastered the art of writing a great introduction. In the majority of cases, the essay introductions our editors come across have been sloppily jammed in place at the last minute and completely ruin the rest of the essay.
Failing to invest that last few minutes crafting an effective opener makes no sense whatsoever.
We all know that top essay writing tip: Write the introduction last. However, just because you may write the essay introduction last does not mean it's the least important part of your essay.
Au contraire… it's pretty much the most important.
According to Harvard, a good essay introduction achieves two main objectives:
It introduces the essay topic in a clear and specific way.
It captures the reader's interest and makes him or her want to read the rest of the essay.
It is also important that your essay is free of grammatical and spelling errors. For more assistance with this, check out our ultimate guide to essay editing.
So what exactly should you be looking to achieve in your introduction?
Things You Should Include in an Essay Introduction
Commences with a hook that is relevant to the essay topic and draws the reader in.
Highlights the topic that will be discussed (underlined or italicized if it is the title of a long work—a play, a novel, a really long poem; in quotation marks if it is the title of a short work—a short poem, a short story, an article).
Presents a reasoned, yet questionable, thesis claim about the concept of interest.
Provides an overview of how the essay will prove the thesis.
Summarizes key learning.
You should check all of these points when editing your paper. Take a look at our editing checklist for more useful advice.
Okay, at this point, you may be feeling slightly overwhelmed.
However, there's some good news: While the introduction is one of the most essential parts of your paper, it is also one of the easiest to write.
Thankfully, you can put your days of churning out lame and meaningless essay introductions behind you with our very simple recipe: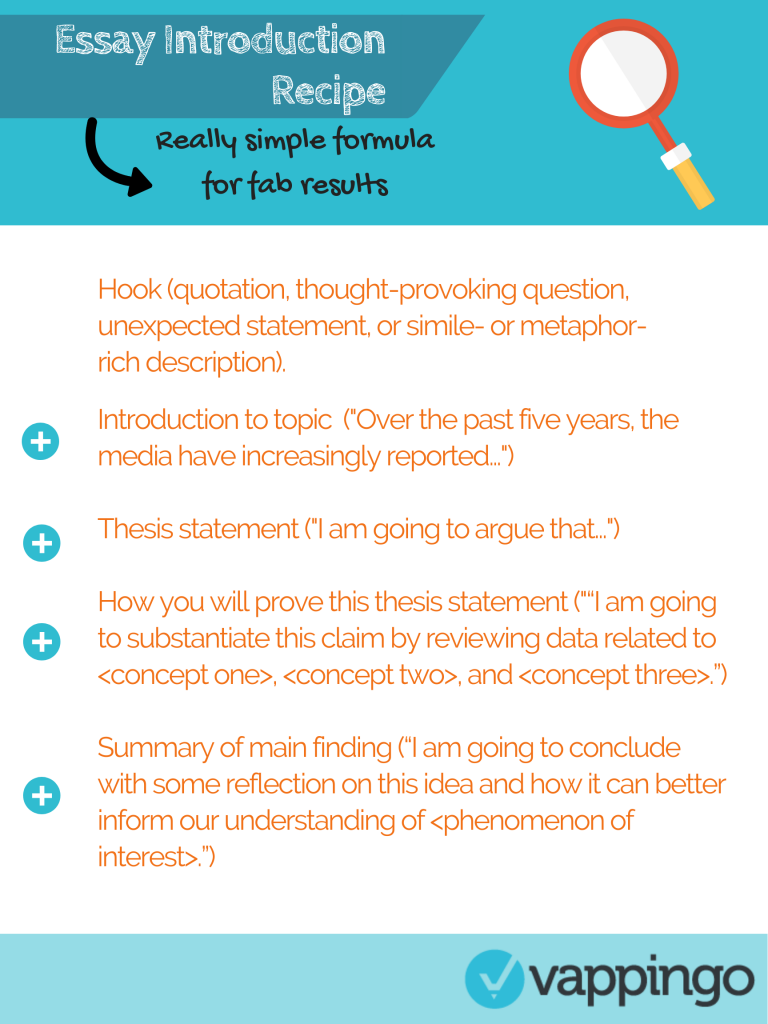 Hook +

Introduction to topic and context +

Thesis statement +

How you will prove thesis statement +

What the key learning will be.
Let's expand on this slightly with some useful phrases:
Quotation, thought-provoking question, unexpected statement, or simile- or metaphor-rich description. +
"I am going to make the argument that…" +
"I am going to substantiate this claim with <number> threads of argumentation that are based on the theories of <name of theorist one>, <name of theorist two>, and <name of theorist three> who claim <main idea of theories>" OR
"I am going to substantiate this claim by reviewing data related to <concept one>, <concept two>, and <concept three> <number>" +
"I am going to conclude with some reflection on this idea and how it can better inform our understanding of <phenomenon of interest>."
That's it. It's that simple.
Of course, you will need to use your own words. However, you are essentially following a simple template that will help you nail the introduction every single time.
Let's look at some examples of this formula in action.
Examples of how to write an essay introduction
A paper About Drink Driving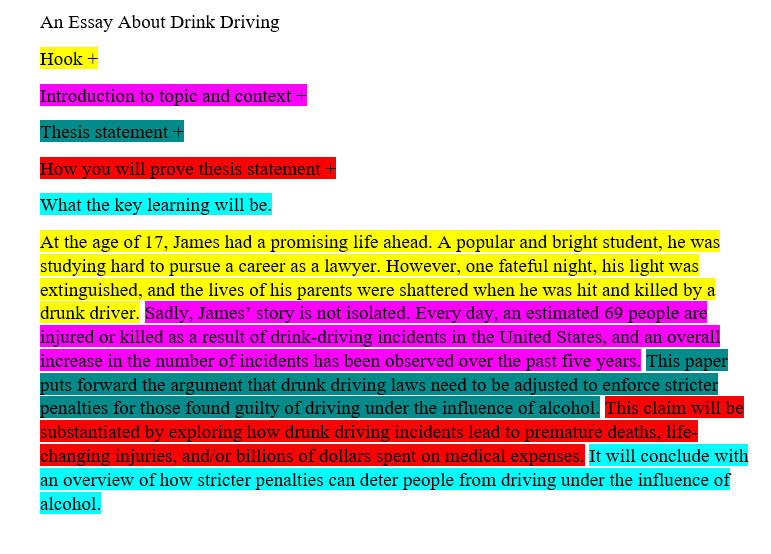 At the age of 17, James had a promising life ahead. A popular and bright student, he was studying hard to pursue a career as a lawyer. However, one fateful night, his light was extinguished, and the lives of his parents were shattered when he was hit and killed by a drunk driver. Sadly, James' story is not isolated. Every day, an estimated 69 people are injured or killed as a result of drink-driving incidents in the United States, and an overall increase in the number of incidents has been observed over the past five years.
This paper puts forward the argument that drunk driving laws need to be adjusted to enforce stricter penalties for those found guilty of driving under the influence of alcohol. This claim will be substantiated by exploring how drunk driving incidents lead to premature deaths, life-changing injuries, and/or billions of dollars spent on medical expenses. It will conclude with an overview of how stricter penalties can deter people from driving under the influence of alcohol.
An Essay Introduction to a Paper About Obesity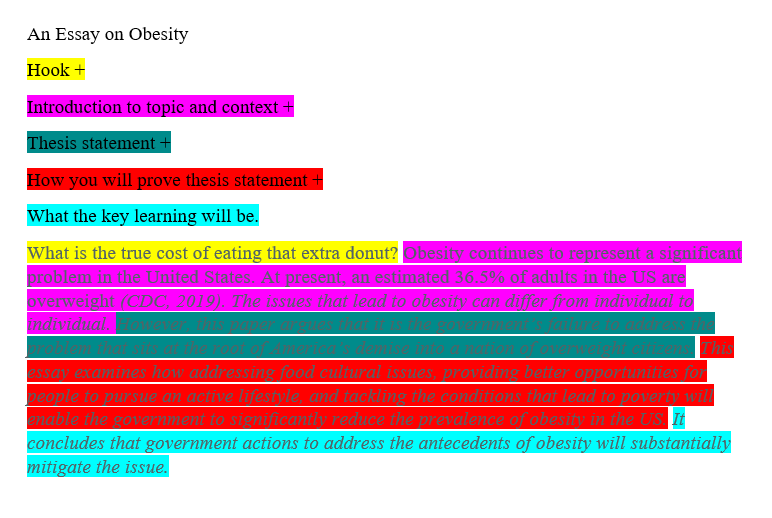 What is the true cost of eating that extra donut? Obesity continues to represent a significant problem in the United States. At present, an estimated 36.5% of adults in the US are overweight (CDC, 2019). The issues that lead to obesity can differ from individual to individual. However, this paper argues that it is the government's failure to address the problem that sits at the root of America's demise into a nation of overweight citizens. This essay examines how addressing food cultural issues, providing better opportunities for people to pursue an active lifestyle, and tackling the conditions that lead to poverty will enable the government to significantly reduce the prevalence of obesity in the US. It concludes that government actions to address the antecedents of obesity will substantially mitigate the issue.
An Essay Introduction to a Paper about Disney's Little Mermaid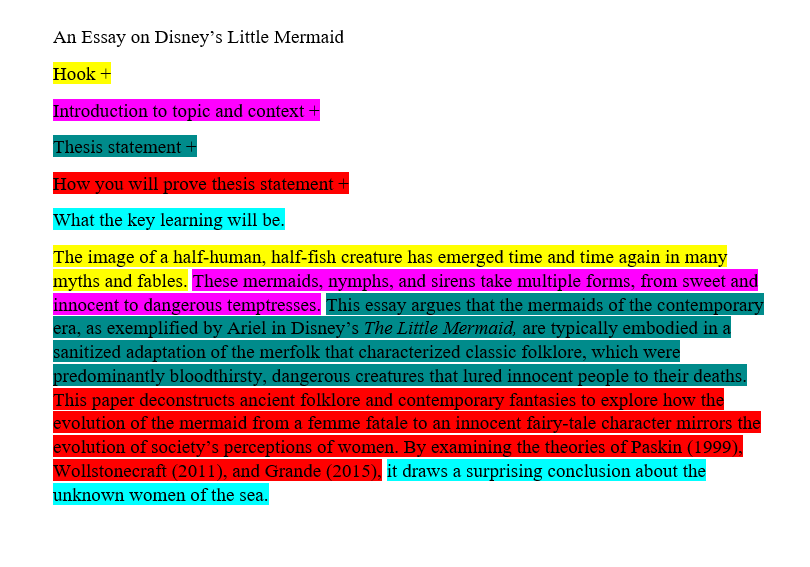 The image of a half-human, half-fish creature has emerged time and time again in many myths and fables. These mermaids, nymphs, and sirens take multiple forms, from sweet and innocent to dangerous temptresses. This essay argues that the mermaids of the contemporary era, as exemplified by Ariel in Disney's The Little Mermaid, are typically embodied in a sanitized adaptation of the merfolk that characterized classic folklore, which were predominantly bloodthirsty, dangerous creatures that lured innocent people to their deaths. This paper deconstructs ancient folklore and contemporary fantasies to explore how the evolution of the mermaid from a femme fatale to an innocent fairy-tale character mirrors the evolution of society's perceptions of women. By examining the theories of Paskin (1999), Wollstonecraft (2011), and Grande (2015), it draws a surprising conclusion about the unknown women of the sea.
An Essay Introduction to a Paper About Monster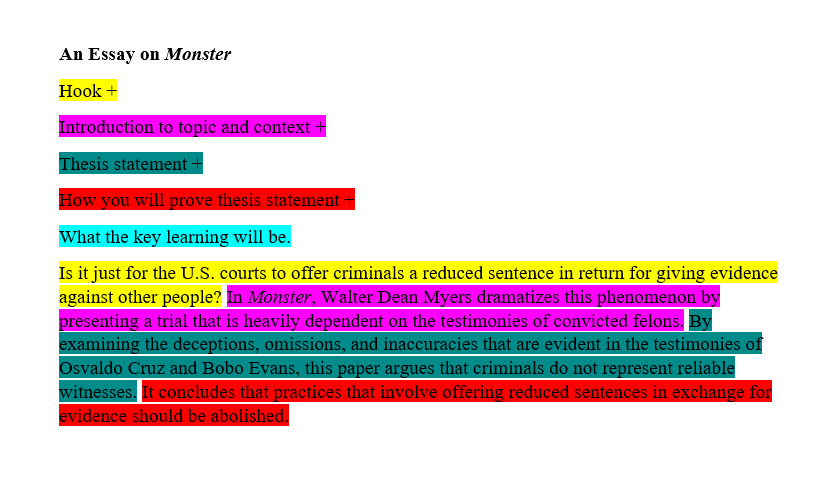 Is it just for the U.S. courts to offer criminals a reduced sentence in return for giving evidence against other people? In Monster, Walter Dean Myers dramatizes this phenomenon by presenting a trial that is heavily dependent on the testimonies of convicted felons. By examining the deceptions, omissions, and inaccuracies that are evident in the testimonies of Osvaldo Cruz and Bobo Evans, this paper argues that criminals do not represent reliable witnesses. It concludes that practices that involve offering reduced sentences in exchange for evidence should be abolished.
Sample Essay Hooks
The introduction to an essay can use different types of hooks. The five most common hooks are presented below.
Type of
Hook
Examples
Quotation
A little inaccuracy can sometimes save a ton of explanation – H.H Munro
It is dangerous to be right when the government is wrong – Voltaire
Anecdote
I'll never forget the day I learned a life-changing lesson: Always expect the unexpected.
As I stared down at the last ten dollars in my hand, little did I know that my next purchase
would change my life.
Rhetorical
Question
Have you ever wondered what the world would be like without religion?
Did you ever stop to think about what steps you could take to make the world a better
place?
Interesting
Fact
China recently announced plans to invest $850 billion over the next ten years to clean up its
water supply.
Humans generate an estimated 2.01 billion metric tons of municipal solid waste (MSW) per
year.
Simile or
Metaphor
Comparing China to the United States is like comparing apples and oranges.
The high suicide rate in Japan is the country's elephant in the room.
Useful Phrases to Use in an Essay Introduction
It is generally agreed today that…
In order to explore these issues in more depth, this paper…
In approaching this issue, one should…
This essay argues that this phenomenon can be attributed to three main issues:…
Increasing numbers of people are…
There is an overall trend toward…
Over the past five years, the media have increasingly reported…
Recent research in this area has found…
This raises the question as to whether…
While many people will typically agree that…, few would deny claims that…
Hardly a week goes by without another report of … appearing in the media.
The paper/article/essay…

discusses/examines/analyses/considers/explains/describes/establishes/introduces…
develops/presents/provides/studies/represents/features/contains/concentrates on… covers/suggests/proposes/shows…
demonstrates/proves/describes the feasibility/likelihood/risk of…
argues in favor of…
is based on the notion of…
opens up a new field/issue/concern/idea in the area of…
gives/aims to give/present/offer a comprehensive/in-depth/detailed account/overview of…
offers a solution/remedy/resolution to…
serves as an introduction to…

The main objective/goal/purpose/aim of this paper/article/essay is to…
Check out our list of essay hacks for more great ideas.
Phrases You Should Avoid in an Introduction
Today I am going to write about…
My professor asked me to write an essay about…
This essay is about…
This essay is on…
To answer the question…
My essay will describe…
I hope to establish…
I think I will prove…
In this paper, I will explore…
The question that I will explore in this essay is…
Things That Should Not be Included in an Essay Introduction
Extensive data and facts. The idea is to provide a high-level overview of the essay topic. The detail will come later.
Quotes or hooks that have no relationship whatsoever to the topic under discussion.
Flabby words or expressions that hold no real meaning or make you sound unsure of yourself. See our guide to words and expressions you shouldn't use in an essay for more information.
References to a dictionary or Wikipedia article.
An opening that commences with the thesis statement.
How To Write an Essay Introduction: Checklist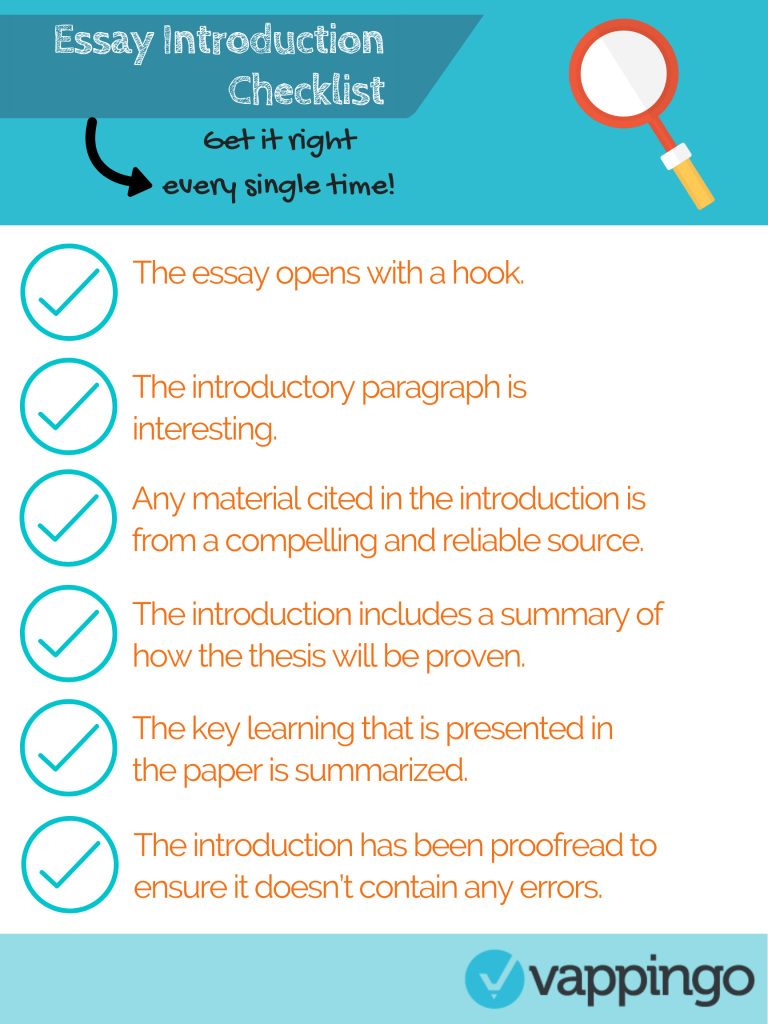 The essay opens with a hook.
The introductory paragraph is interesting.
Any material cited in the introduction is from a compelling and reliable source.
The introduction includes a thesis statement.
The thesis statement is clear, persuasive, and adopts a distinct position.
The introduction includes a summary of how the thesis will be proven.
The key learning that is presented in the paper is summarized.
The introduction has been thoroughly proofread to ensure it doesn't contain any errors.