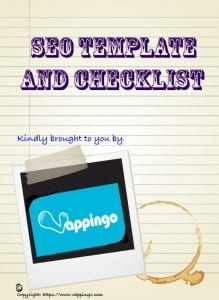 If you need a little help to get your head around search engine optimization (SEO) and writing copy that meets Google's requirements, our free SEO template is exactly what you need.
Let's get one thing straight right from the start: writing search engine optimized copy is NOT rocket science. While you may come across many companies promising to use their secret knowledge of the Google ranking algorithms to make your rankings soar, the basic truth is that writing website copy that appeals to the search engines and meets their criteria is actually very simple. So simple, in fact, that we have broken down all the steps in order to produce a free SEO template and checklist that can guide you through the process of optimizing a page on your site. Click on the link below to download it.
Now many of you may be wondering why a company like ours, which offers an SEO editing service, would be openly declaring that SEO isn't rocket science; surely we should be stating the opposite in order to justify our services? The truth is this: it is one thing to perform well in online searches, and quite another to actually sell your products and services to your customers once they do find your website. Good website copy needs to be written in a way that appeals to both your customers AND to the search engines, and achieving this is where the real difficulties lie. If you don't have advanced English language skills, you may need a little help to write copy that really gets results.
Our SEO editors can assist you to edit your website copy so that it appeals to both humans and the robots that crawl your site to determine your ranking. We follow all the steps contained within the free SEO template and provide you with free meta information as well as editing your text to produce enticing copy. Check out our web content editing services today.