A free press release template that really works… because journalists are sick of press releases.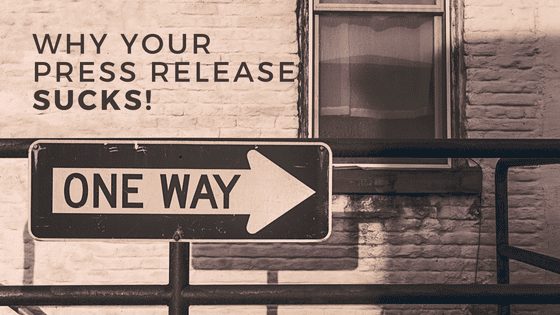 Ever had that frustrating feeling?
The one where you launched a new website that knocks your competitor out of the park.
You want everyone to hear how great it is, you spend hours editing a detailed press release, send it to the media and… nothing.
No reply.
No email.
Birds chirping. Not a sniff of press coverage.
Why did you even bother?
Here's something you probably don't know:
Journalists are sick and tired of receiving press releases.
Can that really be true?
Yep. Journalists receive email after email from PR representatives, tech entrepreneurs, and small businesses, and the majority of the go straight in the trash.
Why?
Because they contain zero information that is of interest to them.
This may come as a big surprise, but you are never going to attract the attention of a journalist and get your foot in the door if you issue a cookie-cutter press release that waxes lyrical about how great your product or service is.
For a start, your press release needs to be concise and to the point.
But that's not enough…
Your press release should serve one purpose:
To assist journalists get their job done as quickly as possible.
When writing a press release, your aim should not be to promote your business, stroke the ego of the managing director, or build backlinks from highly reputable sources. Your aim should be to hand journalists a ready-to-print story that is of interest to their readers.
Deliver that, and you promote your business, stroke the ego of the managing director, and build backlinks as a matter of course.
So, how do you go about delivering a ready-to-print story?
There are three rules that you should absolutely stick to.
The 3 Rules of Writing Press Releases Journalists Wish You Knew
1) Ditch the news story approach
The press release format that we all know and love no longer works. If you've sent press release after press release and received no response, that's why.
Just tell the journalists in black and white what it is you do and why their readers will be interested to know more.
2) Make sure what you have to say is new
Is this really news? Is it new? Don't pitch old stories as if they are new, and don't expect a journalist to pick up your narrative if it has been covered a million times before.
3) Brevity is best
Get straight to the point. Don't use 50 words to describe something if three would suffice. If you can't quickly and easily describe your news, maybe it isn't news.
Get professional help! Our native English editors have reviewed thousands of press releases and know exactly what journalists are looking for. .
Order our business editing services now and we'll help you create a press release that sets you apart from the crowd.
The Only Press Release Template You Will Ever Need
You can down our free press release template now: press release template.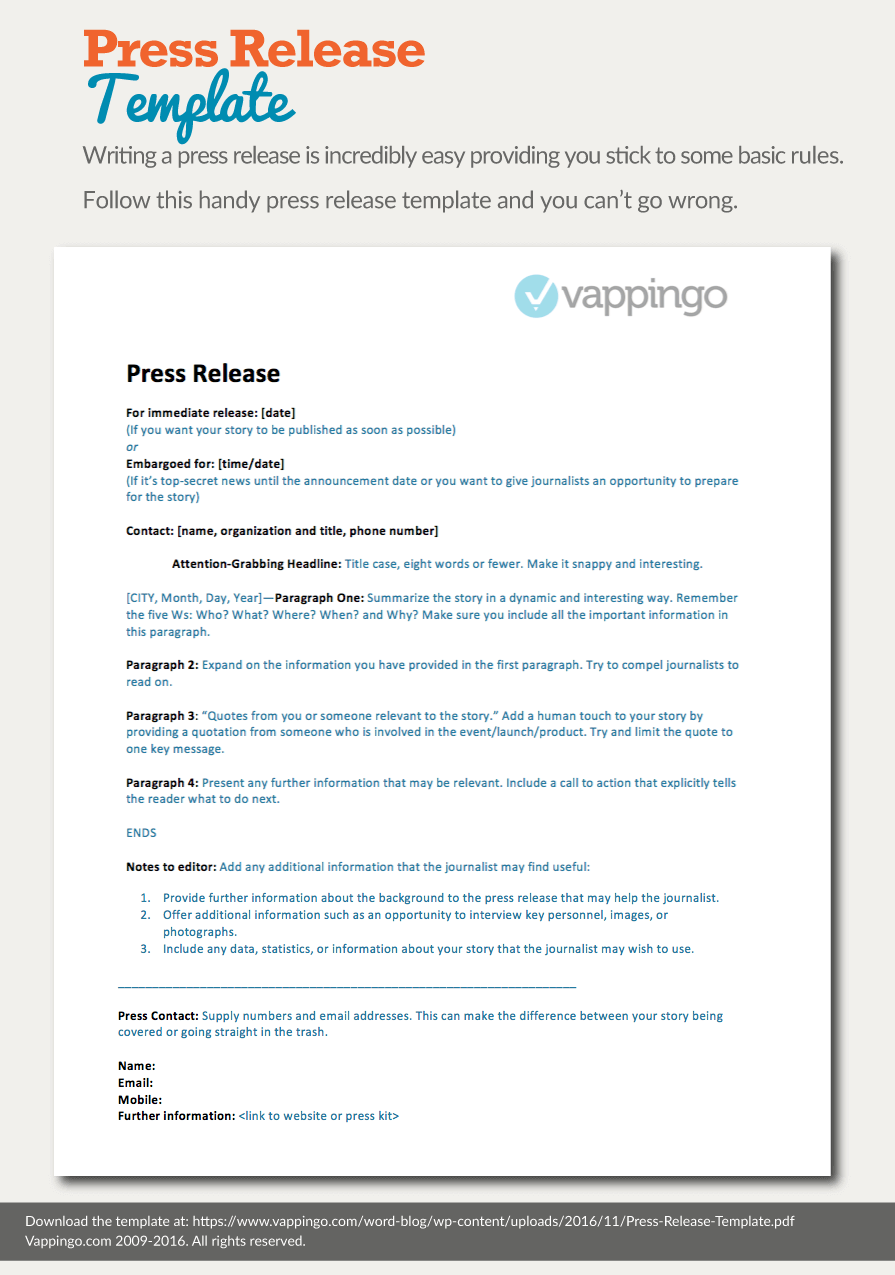 The Headline
Title case, eight words or fewer.
Make it attention grabbing, thought-provoking and unique.
Paragraph One: The Hook
Describe what is happening in the world RIGHT NOW that makes your announcement relevant and interesting (3-5 sentences)
Summarize your story in a dynamic and stimulating way. Who? What? Why? When? (3-5 sentences)
Outline the problem you are solving and how. Describe your product or service briefly and in straightforward terms (max 5 sentences)
Paragraph Two: The Details
Provide any proof you have that your product or service solves the problem using facts and data (think number of subscribers, downloads, active users, etc.).
Describe the user experience.
Explain why your product or service sets you apart from the competitors
Give a broad overview of the existing market.
Paragraph Three: The Personal Touch
Add a human touch by including a quote from someone who is involved in the launch
If the founders have a compelling or interesting back story, include a brief overview
If you've issued press release after press release and got nowhere, give this press release template a whirl; you'll be amazed at how easy it is to get results.
[/vc_column_text][/vc_column][/vc_row][vc_row][vc_column][vc_cta h2="Get professional help!" txt_align="center" color="turquoise" add_button="bottom" btn_title="Perfect Your Press Release Now >" btn_color="green" btn_align="center" btn_link="url:https%3A%2F%2Fwww.vappingo.com%2FEditing-Services%2FBusiness-Editing-Services%2F||"]Our native English editors have reviewed thousands of press releases and know exactly what journalists are looking for.
Order our editing services now and we'll help you create a press release that sets you apart from the crowd.[/vc_cta][/vc_column][/vc_row][vc_row][vc_column][vc_column_text]