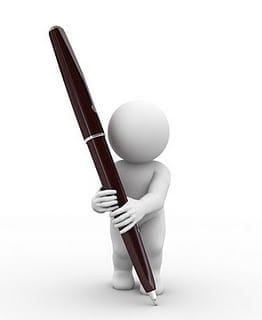 Writing website copy involves a number of major skills. You need to understand the psychology of your target customers and have the writing ability to appeal to that psychology, you need to be able to answer all your customer's questions and present your site in a method that is easy to understand and intuitive, and you need to interest and engage visitors to your site, all while simultaneously presenting your copy in a manner that appeals to the search engines. It is no mean feat!
This week we asked a group of 29 seasoned experts what their top tips were for writing website copy that gets real results. We asked:
What's your top tip for writing copy that talks to your site visitor and gets the results you are looking for?

As usual, they did not let us down and we now present to you a great list of tips for creating compelling website copy that speaks to your audience.
29 Expert Tips on Writing Website Copy That Gets Real Results
1. Tell Your Readers What To Do!

We are a new startup, but have managed to get 60k Facebook Fans.That said, we are not in the bussiness of writing witty facebook updates and I am betting that you aren't either. But here is the big lesson learned from having tons of readers, People do what you tell them to do. Never assume that a reader is going to take an action on your content; you have to tell them to like a post,subscribe to a newsletter, or sign up for you ebook. Dont assume anything, tell your readers what to do.

Thanks to Kimberly Dillon of House Of Mikko

2. Ask Your Customers For Help.

If you want to create copy that converts, you need to have a very acute understanding of exactly what motivates your target customer. By the time you're at this point, you should have already talked to many potential customers, so you should have an idea what this is. Try to ask the most self-aware among them to try to summarize the product in a few words. This will help highlight what are the concepts and phrases that stick out, informing the final version — but not writing it for you!

Thanks to Alex Schiff of Fetchnotes

3. Think From The Customer Perspective

When writing copy for websites, blogs, social media, email newsletters or customer collateral materials, I use words based on the customer perspective. Often clients use internally-focused verbiage which does not resonate with the customer. To identify the appropriate terms, I do keyword research using website analytics and social media and focus on meeting customer needs and wants using their own terms.

Thanks to Nancy Wolff Leary of Online Amplify




4. Less Is More

The old saying is true, less is more when it comes to editing copy for the web. Your visitors don't have the time, and they don't care enough to read long paragraphs or full pages of text. Use bulleted lists and headlines to attract attention and get your message across quickly and effectively. If you can say it in two sentences, try to say it in one.

Thanks to Zach Heller of Zach Heller Marketing

5. Avoid The Word innovative At All Costs.

Clichés like innovative, strategic and leverage are pervasive in copywriting. While some think they sound professional, their downfall is their failure to grab the reader's attention and inspire action.

Thanks to Emily Suess of Suess's Pieces

6. Copy Is For Search Engines, Not Visitors

Craft your copy for search engines. Sad to say, but what you write and how you communicate it is subordinate to online indexing.

Thanks to Steve Silberberg of Fatpacking

7. Write What They Want To Read

Write in a voice that is informative, friendly and engaging. Even formal companies need to speak to site visitors and readers in their language. If written for consumers, keep the jargon and heavy-duty technical language to a minimum and explain things in terms that anyone can understand. If the site is geared to "insiders," techies, and others in the field, then be sure to write in the client's or company's voice but also try to cut down the clunky copy to a certain extent.

Thanks to Caryn Starr-Gates of StarrGates Business Communications

8. Know Your Audience (or Die)

To write copy that speaks to your target readers and achieves the results you are hoping for, you need to know your audience inside out. If you try to appeal to everyone, you will appeal to no one. But if you take into account who you are selling to, what problems they are having, and specifically how your product/service solves those problems, your copy will knock it out of the park.

Thanks to Kathleen K. O'Connor of O'Copy

9. Less Is More

Website copy is unlike any other kind of writing. Visitors are on the go: they've come to the site for a purpose—to make a purchase, to learn something, to be entertained—and need to see right away whether or not the site can fulfill that purpose.

So you have seconds for your copy to catch and hold their attention.

That means being succinct, with tight, well written and proofread writing. That means using bullet points, not long sentences. With website copy, less is definitely more!

Thanks to Jeannette De Beauvoir of Customline Wordware

10. Think Outside The Box

Think outside the box. Say your business is selling microwaves. There are thousands of websites that have content talking about how cool microwaves are. Guess what? Most of their content is boring! Get crazy with your content – make up a story or a character and play with it. Mr.Micro's adventures in Popcorn land – perhaps crazy and odd, but will definitely entertain your audience and increase the chances of a potential client pressing your Buy Now button.

Thanks to John White of Best Essay Help

11. Find The Pain Point – And Press Hard

What's currently plaguing the target market? Where does it hurt, and how can we fix it? When I write website copy, I find out what the customer's problem is and how the solution I'm presenting can solve that problem. Then, in non-gimmicky way, I present that solution and describe the benefits of the product or service my client is selling.

It's all about addressing problems and solving them for your customers and clients when it comes to website copy.

Thanks to Christine Parizo of Christine Parizo Communications

12. Talk To Your Audience

The biggest tip I have to offer is that you should make sure that you're communicating regularly with the type of people who you'd like to become your clients, whether that's through a blog, Twitter or elsewhere. That's because the language that prospective clients use and the questions they ask can help you write your copy in such a way that it resonates with them. You have to use their jargon, answer their questions and really just be in touch with what they're searching for.

Thanks to Thursday Bram of Hyper Modern Consulting

13. The #1 Secret To Writing Great Copy

Listen to the problems that your potential customers are having and then write all about how your product solves those problems – using the words that your audience uses!

People tend to like and identify with people that are just like them. Use this to your advantage!

As long as your using the right words in the right context, your customers will listen and appreciate that someone like them is solving their problems for them.

Thanks to Lea Richards of Pig of the Month BBQ

14. Understand Where Your Visitors Are Coming From

Understand where your visitors are coming from. Are they coming from an ad buy? A social media campaign? Organically? You need to tailor your copy so that it speaks to the users given why they're visiting your site. For example, Spotify would have completely different copy for the viral user-generated Twitter post landing pages than they would for an organic hit.

Thanks to Alex Miyamura of Fresh Mint Labs

15. Find Your Own Voice

Creating a message is not always about buzzwords and SEO laced keywords- it should be about letting people get to know your culture and brand through the text. At LincWare, we are generally witty, sarcastic, and casual as a company, and our writing reflects this. In the last week, I have personally used references to Narwhals and Rebecca Black in posts and newsletters for example.

Thanks to Daniel OLeary of LincWare

16. Write Copy That Speaks To Your Audience

When composing copy, take a step back and really think about what message you want to get across and cater your writing accordingly. Who is your audience? What tone do you want to portray? When it comes to copywriting, not all copy can be treated the same and one must be able to think & adapt.

It helps to actually say out loud what I want to write. I will softly speak the words as I write them to ensure that it sounds the way I intended it to, adding a human element to an often robotic task.

Thanks to Ashley Caldwell, Sr. Copywriter of /excelamktg

17. Creating Compelling Copy

Good copy helps your readers understand what you are offering them and gives them a clear way to respond. The following copywriting tips are ones that the pros know well. Keeping these "commandments" in front of you when you write will help you to create compelling copy that will engage your readers.
Commandment #1 – Know Your Audience
Who is this email going to? Picture the "average" person on your list. Give them a name, even. Think about what their day is like.

Thanks to Jacqueline Gikow of ChelseaRainbow

18. My Top Copywriting Tip: Keep It Simple And Keyword Rich

My top copywriting tip is to keep the copy simple and keyword rich. Since most visitors are looking for quick information when they visit a site, you do not want to overwhelm them with long copy. Answer the questions that most often come up regarding your business in a simple and straightforward way using the language that your customers/clients are typing into the search engines.

Thanks to Jennifer Barbour of Another Jennifer Writing Lab

19. It Takes Real Skill And Imagination.

Effective web copy begins with doing your homework on the client's business philosophy, products and services. Then you must find the most engaging and compelling words to move the client's target audience(s) from curiosity to action. This is accomplished with a combination of conversational tone and subtle selling language that appeals to the perceived need or desire, all packaged concisely in scannable chunks for today's too-busy, attention deficited reader.

Thanks to Mary Shafer of The Word Forge

20. Make Your Point….Quickly

When writing for the web try to get your point across in as few words as possible. Also, be sure what you are writing has value in the eyes of your user base.

Thanks to Bill Elward of Castle Ink

21. Catch Their Attention!

Let's face it; we live in a Twitter society. If you don't grab the reader's attention in a nanosecond, he's off to the next site/brochure/article/etc. The title and first paragraph need to essentially tell the story and compel the reader to learn the why, what, where, who, and how. It's old-school journalism and marketing, but writers seem to have forgotten.

Thanks to Amanda Collins of The Grammar Doctors

22. So What? Why Should You Care?

Put Your Bottom Line on Top!
With ever sentence you write, ask yourself, "Why should my reader care?" What's in it for my reader?" and "So what?". You will then reduce what YOU want to say, and pare down to what the reader needs in order to ACT!

Thanks to Kymberly Williams-Evans, MA of Fun and Fit

23. Straight To The Heart

Connect with your audience on an emotional level as quickly as possible. You only have their attention for a short time – make it count.

Thanks to Sue Fliess of author/copywriter

24. Capture The Readers Attention- Thrill Their Senses

Write compelling copy to capture your site visitors attention. It takes more than just buzzwords and carefully selected keywords, or a well-thought out scan-path; you must thrill their senses of sight, sound, touch, taste, and smell. Conjure the scent of the beautiful flower gardens and elegant surroundings with adjectives, verbs, comparatives. Share, experience: a tried & true medium to reach into the psyche and impress. Dont just list amenities, paint them with words that pull visitors in.

Thanks to Sherry Gavanditti of Menorah Park Campus

25. Answer Questions Your Visitors Have

Creating compelling copy takes skill (and sometimes some imagination) but the best thing to remember is who you are writing for and how you can help them. If you can write content around the questions they are asking, that will be compelling in itself. I use Google Analytics Keyword Traffic Source report to see the keywords visitors typed in to find my site. This gives me ideas of new topics to write about and popular content to expand on.

Thanks to Jenika Scott of Hall Internet Marketing

26. Write Like You're New On The Job And Always Listen, Edit And Improve

Use customer feedback -you should always be asking your customers questions about your service, website, and features. Continuously write and adjust copy based on their answers, helping the copy flow and strike a chord with the reader.

Write in the mindset, tone, and language of your customer- pretend that it is your first day on the job How would you explain to your friend to best guide them through your sales funnel and desired actions? Write your copy with that in mind.

Thanks to Sylvia Pankiewicz of FreightCenter.com

27. Use Yummy Headlines That Solve Visitor Needs

Make sure all pages have a big, enticing and direct headline that clearly tells visitors you have the great solution they seek. Focus on your visitor needs or frustrations… not how great your product or service is. Plus use keywords in a smooth, ethical manner. For example:

Relax. You just found the stress-free way to plan a beautiful, romantic Maine wedding.

Support your pet's well-being 24/7. Start with free vet advice and your pet's profile in one trusted spot.

Thanks to Pam Foster of ContentClear Marketing

28. Give Your Copy Direct Eye Contact!

When writing sales copy, speak to only one ideal client or customer. When you focus on just one person you are creating a conversation and that should be the tone of your communication — natural dialogue with a real prospect who would benefit from your product or service. It is like providing direct eye contact in an in-person conversation. When you speak to a large group of people you lose the personal connection, thereby reducing the effectiveness of your copy!

Thanks to Rosalind Sedacca of Rosalind Sedacca Associates

29. Write for your target audience

I have spent a great deal of time research keywords and attempting to create posts that optimize those keywords but the truth is that I have actually had the most success with the posts that I have written without regard to keyword optimization and SEO. Write for your audience and you will get success.

Thanks to Emma of Singapore Baby
Do you have tips on writing website copy that you would like to share? Leave a comment below and tell us all about them.
If you could benefit from some help perfecting your website copy, check out our business editing servicess today.