If you're learning English and want some fun ways to master vocabulary and grammar, our preposition games offer you an ideal way to explore language and get to grips with the basics. In this post, we present two interesting games that can be used to learn about the common prepositions that are used in the English language, while also hopefully having a bit of fun. Who said learning English was boring?
Preposition wordsearch
This preposition wordsearch contains 33 hidden prepositions. Can you find them all? Click on the picture of the wordsearch to download a printable A4 PDF version of the game. If you want to learn more about prepositions, have a look at our guide to prepositional phrases.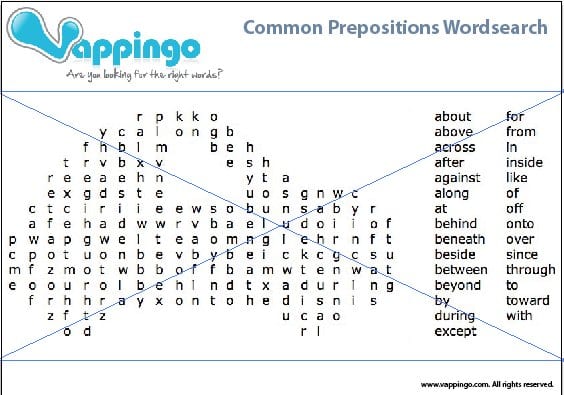 Preposition crossword
This game will present a slightly bigger challenge than the wordsearch. Can you answer all 63 clues to complete the crossword in full? Click on the picture of the crossword to download a printable PDF version.
Want to keep informed when we add new games and puzzles? Join our Facebook community now.