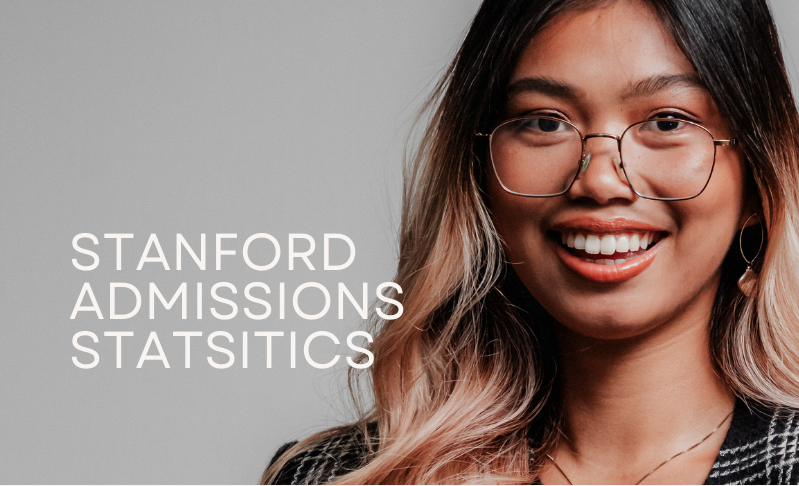 Stanford University, often dubbed the 'Ivy of the West,' stands as a paragon of academic excellence, innovative research, and comprehensive student support. Nestled in the heart of Silicon Valley in Northern California, Stanford boasts a current roster of 17 Nobel laureates and 23 MacArthur Fellows among its faculty and alumni. The picturesque suburban setting of Stanford is a draw for many prospective students.
If you're seeking to study in this neck of the woods, this Stanford admissions guide includes all the information you need.
For assistance writing an admissions essay, take a look at our college application editing services.
Stanford Admissions Statistics at a Glance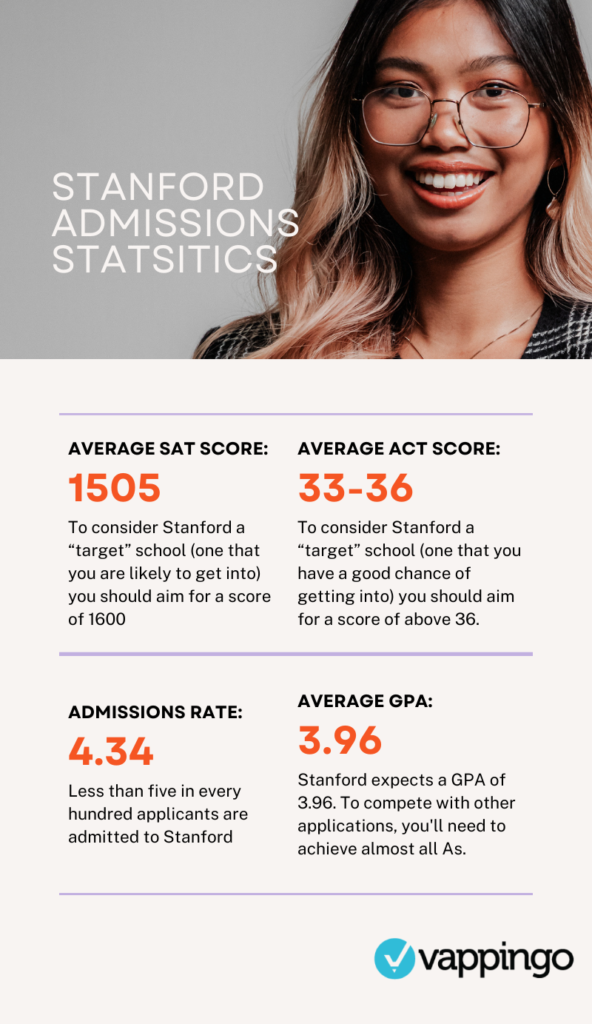 The Facts About Stanford Admissions
The admissions process at Stanford is highly selective. For the class entering in 2023, Stanford received 55,471 applications and admitted approximately 2,190 students, resulting in an acceptance rate of about 3.95%. The admitted students showcased impressive academic prowess, with SAT scores ranging from 1440 to 1570, ACT scores from 32 to 35, and an average unweighted GPA of around 3.96, with the vast majority ranking in the top 10% of their high school classes.
Stanford's faculty includes some of the world's most distinguished academics who encourage students to seek mentorship and engage in discourse beyond the confines of the classroom. Each year, around 800 undergraduates engage in faculty-supervised research projects, benefiting from the intimate 5:1 student-to-faculty ratio. The university offers more than 70 majors, with particularly strong programs in Computer Science, Engineering, Business, Economics, and Humanities. While known for its STEM fields, Stanford also provides robust programs in the Humanities, with excellent offerings in English, History, and Classics.

Student Life at Stanford
The Stanford campus is known for its iconic palm-lined paths and Mission-style architecture. With a Mediterranean climate providing year-round sunshine, cycling is a prevalent mode of transportation among students. Housing options range from residence halls to "the Row," a collection of unique house communities, each with its own character and traditions, often including dedicated culinary staff.
The culture at Stanford is collaborative rather than cutthroat, a contrast to some East Coast institutions. Students are known for their friendly demeanor and willingness to support peers. Weekdays are often academically intensive, but students know how to balance their studies with leisure, engaging in a variety of social activities on weekends. While there is a Greek system, it does not dominate the social landscape.
Athletics are integral to Stanford's culture, with varsity teams frequently excelling at national levels. The Stanford vs. UC Berkeley football game, known as "The Big Game," is a storied annual tradition that galvanizes the community.
Anecdotal data suggests that over 70% of Stanford students end up marrying a fellow alum, indicating the strong bonds formed during their college years.
What's Good About Studying at Stanford
The campus climate is unbeatable. Stepping out to sunshine and 75 degrees after a rigorous class is incredible.

The sense of security is paramount. I can jog at 3 AM feeling completely safe on campus.

You're not just a number here; the academic quality is unparalleled. Professors genuinely care and are accessible for discussions on any topic."
What's Bad About Studying at Stanford
The academic rigor can be overwhelming at times; once you fall behind, it can be quite tough to catch up.

Despite its many virtues, Stanford's location is somewhat remote from major urban centers.

The presence of affluent tech culture is palpable. It's a fantastic environment for innovation, but social options for those under 35 can feel limited.
Stanford Admissions Requirements
Acceptance Rate
Aspiring to join the prestigious ranks of Stanford University requires understanding the competitive nature of admissions. The acceptance rate is a key indicator of this competition.
Stanford's current acceptance rate is 4.34%. This signifies that out of every 100 applicants, fewer than 5 are admitted.
This low rate highlights the university's selectiveness.
Grade Point Average
Meeting Stanford's GPA and SAT/ACT standards is critical to pass their initial screening and show academic preparedness. Falling short in this aspect greatly diminishes chances of admission.
Stanford's average GPA requirement: 3.96
While some institutions report an unweighted GPA, Stanford looks for a weighted GPA to reflect course difficulty.
A GPA of 3.96 is expected at Stanford, placing you among the top students, with predominantly As. Enrolling in rigorous coursework, such as AP or IB classes, is essential to prove college-level academic capacity.
For juniors or seniors, altering your GPA in time for college submissions is challenging. If your GPA is at or below the Stanford average, a higher SAT or ACT score is necessary to compensate.
SAT and ACT Requirements
SAT Requirements at Stanford
Each institution has its own standardized testing requirements. The SAT or ACT is necessary for most, and some may require SAT subject tests.
Stanford requires either the SAT or ACT for admission. Achieving high scores on these tests is crucial.
Stanford's average SAT: 1505 out of 1600
Stanford allows for "Highest Section" score submission, also known as "superscoring." You can choose which SAT results to send, and Stanford will consider the highest score from each section across all submitted tests.
You may take the SAT multiple times and submit only your highest scores. If your superscore is below 1550, consider retaking the SAT to enhance your chances of acceptance.
With superscoring, you can focus on improving individual sections, one at a time, to achieve the highest possible combined score.
ACT Requirements for Stanford
Stanford does not set a strict ACT cutoff, but applications with a low score may be dismissed without consideration.
Average ACT: 34
Typically, ACT scores at Stanford range between 32 and 35, with 35 being in the 75th percentile.
Although no minimum ACT score is officially stated, presenting a score below 32 could hinder acceptance unless the rest of your application is exceptionally strong.
Stanford Admissions Essay Requirements
Stanford accepts applications exclusively through the Common Application platform. Every applicant must submit a personal essay based on one of the prompts provided by the Common App.
Essays should typically range between 250 and 650 words. Applicants should check the Common App website annually for the latest prompts. It's crucial to select a prompt that allows for a comprehensive and reflective response. The essay is a vital part of the application, demanding careful consideration of the applicant's experiences and goals.
Stanford advises the option to submit a supplemental essay alongside the Common App essay. Although submitting this additional essay is "optional," it is highly encouraged to provide a complete picture of oneself. For reference, a significant majority of successful applicants include supplemental essays.
There is no strict word limit for the supplemental essay at Stanford, but most accepted students write in the range of 250 to 500 words. This necessitates a focused approach, either delving deep into one aspect of your identity or directly addressing the essay prompt. Initial drafts should flow naturally without concern for perfection; refining, rewriting, and polishing can occur after all critical elements are on the page. An immaculate essay is the result of meticulous revision. Guidance on crafting these essays can be found on Stanford's admissions website.
For more instructions on how to write this essay, go to the Stanford University admissions page.